Description
The FireSteel Palm Scraper™ by FireSteel.com takes fire making gear to a whole new level.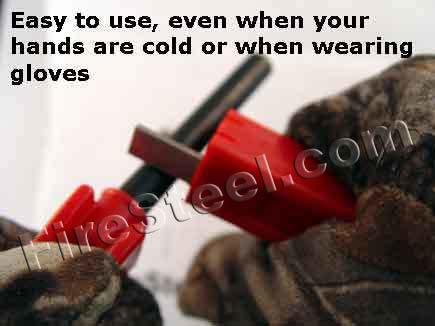 Palm Scraper in Action
To use the Palm Scraper™, grasp the handle in the palm of your hand. This means that you can easily use it even when your fingers are too cold to function properly or you are wearing gloves.
What's more, the Palm Scraper handle is hollow. The matching GobSpark Armageddon FireSteel Rod (sold separately) securely snaps into the Palm Scraper handle so that your FireSteel is protected.
The metal scraper (striker) blade that is attached to the Palm Scraper is made from the exact same ulta-hardened steel as as the famous FireSteel.com Super Scrapers, so you know you'll get massive showers of sparks.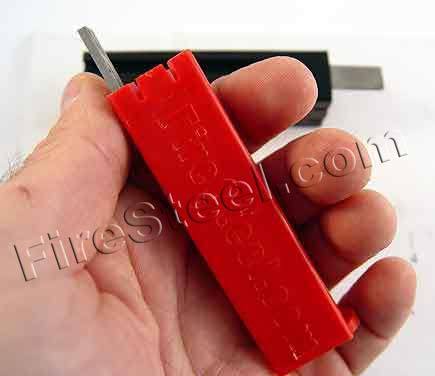 The innovative GobSpark Palm Scraper is designed to be held tightly in the palm of your hand - especially great when wearing gloves or your hands are very cold
Even if you do not own a GobSpark Armageddon FireSteel, the Palm Scraper is a great addition to your firemaking gear because it will work on any other FireSteel rods.
This is especially welcome news for customers with limited grasp strength whether due to the cold, gloved hands or conditions such as arthritis. It is much easier and you get a better purchase when you grasp the handle of a Palm Scraper with your whole hand than when you pinch the handle of a Super Scraper with just a few fingers.
Another FireSteel.com Quality Made Product
Think nothing is made in America anymore? Think again. The handle of the FireSteel.com Palm Scraper was designed and is injection-molded (manufactured) right here in the United States!
You can also order the complete GobSpark Armageddon FireSteel Kit here.
Specifications
Length: 3.75 inches (95mm)
weight: .658 ounces (18.67 grams)
* Palm Scraper is a trademark of FireSteel.com
Get your FireSteel from THE name in FireSteel: FireSteel.com!
View All
Close
23 Reviews
A real scaper for the Alaskan winter and summer too

Gloves in winter are a must in Alaska and one needs a scraper that can be held, even if hands are cold or numb. Children, scouts, all love this scraper. Why? Because it's easy and it works. I've used and seen this scraper used in winter and summer, it never fails. I first ordered it on the Armageddon firesteel, but have ordered more. It's light and it's simple to get loads of sparks, anytime.

Have one ready for the ARMAGEDON!

While the super scraper works the palm scraper RULES! I will be getting one for all my ARMAGEDONS. Trust me it is the best!

The palm scrapers seem to have a sharper edge for striking. I have spent some time now experimenting with various scrapers on both my Gobspark Armagedon and some cheap mischmetal rods and the palm scraper consistently outperforms every other type of scraper. Add to that very fast shipping and friendly customer service and you just can't beat this product.

Very nice product. Works like the smaller brother, however if your hands cannot or willnot grip the smaller version -- this scraper fits in the palm of your hand and with not much grip at all, sparks then fire. Should always have one of these on hand (no pun intended).

Great complement to GobSpark Armageddon

Well designed scraper. Clips securely to the GobSpark, yet pops off and works great. I have GobSpark, Palm Scraper, Fatwood slab and Magnesium rod all on the same lanyard for easy access. I just hold the slab and rod with my pinky as I'm gripping the GobSpark with thumb and first two fingers, plenty of room to operate the scraper - quite a combo!!

Palm Scraper BEST for Cold or compromised Hands

I like and used successfully the Super Scraper,but the Palm Scraper works much better for me,and it will for you too.I have Diabetic Neuropathy (loss of nerve response and muscle control)in my extremities and the Palm Scraper is the best for great sparks and control with my limited hand control...Which you will experience in cold or injured conditions.The Palm Scraper also protects the Armageddon Firesteel so well and LOOKS SO GOOD that some people want a "keychain" like mine...not knowing what a tool it really is.

Easy no brainer how to make a fire

I went out in windy and raining conditions - a couple strikes started the fire. Dip a cotton ball in petroleum jelly - with just couple strikes it's burning. Now i carry [a FireSteel.com FireSteel] everywhere and also in my car for emergencies.

Since I have several FireSteel.com firestarters,they looked undressed w/o the FireSteel Scrapers. I like fact that fit my large hands. (God's gift to me) I am impressed with FiresteelSteel.com Palm Scraper actually covers the FireSteel.com and the ease to get to the Palm Scraper. One strike to a greased cotton ball, you have the start of a flame. The owner's affability and product price can't be compared. Thank you for a great product.

Easy to hold and does a wonderful job.
View All
Close