FireSteel.com LLC has mailed out tens of thousands of packages over the years. We pride ourselves on fast shipping and excellent service. However, with numbers that big there are bound to be a few that slip through the cracks, so to speak, and these rare instances are what this blog post is about.
Follow Your USPS Tracking Number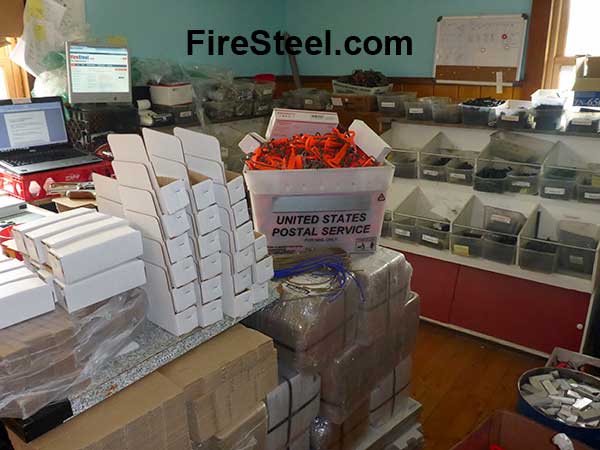 When we ship your package you are e-mailed a tracking number so you can check the progress of your package via the US Postal Service website.
FireSteel.com LLC typically ships every day, Monday through Saturday via First Class Mail. In the USA this means your package will arrive within about 2 to 6 full business days. Sometimes due to holidays, weather, breakdowns in the USPS system, and other unforeseen circumstances the mail may run a little slower than that.
An unfortunate fact of life is that a very small percentage of packages "go missing" for a variety of reasons that are outside the control of FireSteel.com.
So far this year, from January 1st to May 5th out of all the thousands packages we have mailed only about a dozen have "gone missing" and the majority of these were easily found and successfully delivered:
Four of these packages had been delivered and the customers found them at home after a quick search.
One package had accidentally been delivered by the postal worker to a neighbor, who was kind enough to return the package.
Three packages were found by the USPS (forgotten at the bottom of a mail bag, for example).
Two packages had incomplete or erroneous addresses and so were returned to FireSteel.com LLC.
Two packages may have been stolen as they were never seen again.
Should your package become lost in the mail, we will do everything within our power to find your package (and we usually do) – rest assured you will get your stuff!
Missing Package?
First of all – Don't Panic! I will personally see to it you get your stuff one way or another :-)
Experience has shown that usually when the USPS tracking website shows your package has been delivered or reads "Out for Delivery" but you do not have it, the package is actually there only we do not know it yet!
Try the following:
Make sure the mailing address you gave when you made the order is correct.
Check with other household members who may have taken in the mail but forgot to tell you. Little brothers are sometimes prime suspects :-)
Check behind counters, tables, underneath the mail rack, etc, where the mail have fallen behind something or is out of sight.
Check areas around your home where the Postman may have put the mail (between doors, for example) - sometimes a replacement postal worker does not know the area well.
If you have a PO Box sometimes the post office will put your mail in that instead of delivering it to your door.
Check underneath car seats, etc, where the mail may have rolled if you pick up your mail at the end of the driveway for example
Check with neighbors who may have gotten your package by mistake
You may come up with other ideas specific to your circumstances.
If you still cannot find your package, be sure to contact me by email:
ron@firesteel.com
I will contact my local Postmaster who has access to more information than is displayed on the USPS tracking website. Often he can track down an errant package and get it delivered.
If after trying all of the above and you cannot find your package at home, there is a good chance your package was forgotten at the bottom of a mailbag or got hung up somewhere in the USPS system during processing. This is where my Postmaster comes into play and almost always his influence is enough to get the job done.
You WILL Get Your Stuff!
You can trust FireSteel.com LLC - I've been in business for many years and I stake my reputation on making sure you are happy with your purchases! Tens of thousands of people use FireSteel.com FireSteels, a name you can trust.
Enjoy the day and have fun making fires,
Ron Fontaine, FireSteel.com LLC
Recent Posts
FireSteel.com LLC has mailed out tens of thousands of packages over the years. We pride ourselves …

Chad of CK Outdoors in Burley, Washington sent us some pictures of the custom knives he makes alo …

We finally have our new FireSteel.com Square FireSteels in stock and posted for sale. What's …