World's Best FireSteel
FireSteel.com FireSteels
First Class Premium FireSteel Rods - The Choice of Survival Experts the World Over
We've been in business for years and know a thing or two about making fires!
Chemists and metallurgists have worked hard to create this special premium FireSteel formula that gives you the best sparks. FireSteel.com firesteels are known the world over for quality and fire sparking excellence. They are indeed "the real deal".
Want more assurance that FireSteel.com FireSteels are the best your money can buy? Read the customer reviews located below each product description. Every day customers write to us and we try to post their views on our products as time allows!
From an email dated December 6, 2011:
[name removed for security reasons]
Special Agent
Office of Special Investigations Anti/Counter Terrorism Unit
USAF Special Operations Command
USSOCOM

"Its been a few years since my last order and I just got a box from you. The [firesteel] is great. I have been training intel officers after my 4 tours to Iraq and 3 to the Afghan Hills.

I am using the fire steels in both the field ops and SERE parts of the intel training....They were slowly whittled down over the years.

We [had] one pilot stand on a mountain scraping his fire steel as a signal. The PJs saw the sparks 2 miles away. We even ignited time fuze with one to set off an IED."
Find out why experienced fire makers choose FireSteel.com FireSteel. Get your FireSteels from the source: FireSteel.com!
Simply scrape a FireSteel.com FireSteel with a knife blade, scraper, or other similar object and produce a massive shower of 5500 degree F (3000 C) sparks. Easy to use and very fun too!
Why Use FireSteels?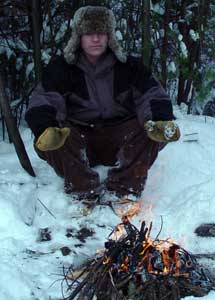 Great North Woods
Temperature: -35° Below Zero
If FireSteel.com FireSteels didn't work, I'd be dead.
How's that for product testing!
Experts agree: The most important item in your survival kit is the means to make a fire.
In a disaster emergency or other survival situation being able to start a fire could very well save your life.
But there is a problem:
Matches become damp and useless.
Lighters run out of fuel or break.
Old fashioned flint and steel can be difficult to master.
Fortunately there is a solution: FireSteel. The best way to ensure you can start a fire when you need one.
FireSteel is compact, lightweight and easy to use. And it always works - even when wet!
One simple firesteel can light tens of thousands of fires. Put a FireSteel.com FireSteel in your survival kit and never worry about making a fire again!
"I not only sell FireSteel.com FireSteels, I absolutely depend on them for my own survival!"
There are many inferior products on the market today. Don't be fooled - your life may be on the line. These FireSteels are the real deal!
Ron Fontaine Wilderness Survival Expert
Survival Topics.com "Your Online Survival Kit!"
FireSteel.com "Your Source for FireSteel and FireMaking Gear"
Email Ron Fontaine at ron@firesteel.com
(most days he's out in the mountains of the Great North Woods - and using FireSteels!).