GobSpark Armageddon and Palm Scraper 2 piece KIT
SKU:

GSK-ARM-
Description
Make upwards of 20,000 fires from one GobSpark™!
NEW!!! Your choice of color: Safety Orange, Olive Drab (OD) Green, or Black!

Lanyard cord is included

Invented by FireSteel.com to maximize your grip on this large FireSteel, you'll get the biggest most robust gobs of sparks you have ever seen from a FireSteel.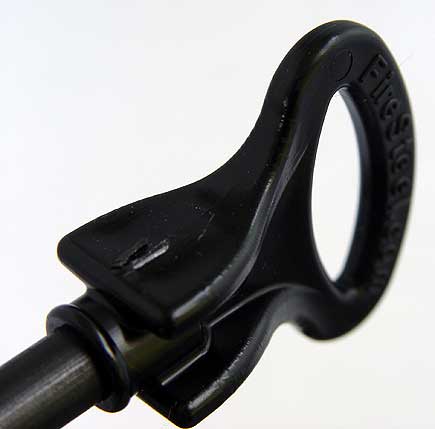 The innovative GobSpark FireSteel handle is designed for optimal use in all weather, with or without gloved hands.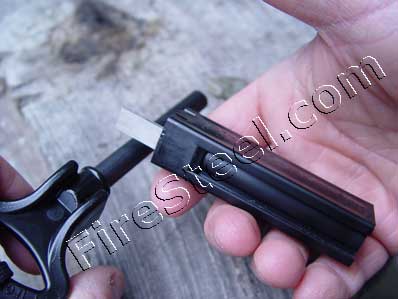 The innovative GobSpark Palm Scraper™ is designed to be held tightly in the palm of your hand - especially great when wearing gloves or your hands are very cold
The Palm Scraper™ slides onto your GobSpark Armageddon FireSteel with a satisfying "Click", protecting your firesteel and making a complete firesteel kit.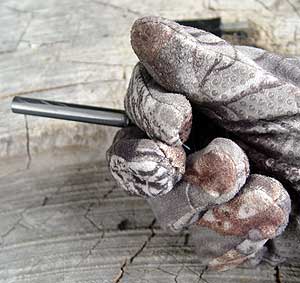 You can wear gloves in cold weather and easily use this FireSteel !
If the ability to make fires is important to you, this is the FireSteel to get.
People are calling our GobSpark Armageddon "the best firesteel in the world".
But don't take our word for it: read the reviews below and decide for yourself.
It's not "just a firesteel". It's a firemaking system.
The GobSpark Armageddon FireSteel starts with an ulta-unique and proprietary FireSteel handle attached to a big world-famous FireSteel.com Armageddon 3.0 FireSteel.
But there is much more:
A BIG, ROBUST firesteel on a Robust Handle - the firesteel is a full 3/8ths-inch in diameter and 3-inches long
An innovative handle designed for the firmest grip - even when your hands are cold or wearing gloves.
The included FireSteel.com Palm Scraper completes your kit:
The innovative Palm Scraper™ handle with an ultra-hardened alloy blade - rave reviews for the shower of sparks it creates when applied to the GobSpark. Grasp the Palm Scraper handle in the palm of your hand or glove for a great grip even when wearing gloves or your hands are numb from the cold.
Easy to Use with Gloved or Cold Hands
Imagine trying to start a fire with hands numbed from the cold or while wearing gloves. A small blocky firesteel handle may be very difficult to hold onto.
But using a GobSpark™ Armageddon and Palm Scraper presents no problem, even with gloved hands.
I KNOW these work because I use them myself in the Great North Woods, where winter temperatures routinely dip to minus twenty degrees and lower. No need to remove my gloves to light my fire! My hands remain toasty warm inside my mittens.
In fact, if the GobSpark Armageddon didn't work, I'd be dead. How's that for product testing?
Easy to Aim Your Sparks onto the Tinder
To use this special FireSteel Handle (see video below as well as the pictures)
Place the handle in the palm of your hand so that the firesteel lays between your index and middle fingers.
Position your hand palm-down and place the FireSteel Rod next to your tinder.
While holding the firesteel handle tightly, scrape the FireSteel rod hard and fast in one fluid motion
This will produce a massive shower of white hot 5500 degree F sparks aimed directly at your tinder.
The special shape of the handle allows for creative attachment to your belt or gear.
The FireSteel Palm Scraper™
This great piece of FireSteel.com gear securely snaps onto your GobSpark Armageddon FireSteel, serving double purpose as a protective case. The rectangular shape fits snugly into the palm of your hand or glove, so that you can scrape sparks from your firesteel even with heavy gloves on your hands or when your fingers are so cold you can hardly move them - potentially a life saver when you are freezing cold or wet from an overturned boat etc.
If you already own any one of our FireSteel.com Firesteel and just want the convenience of a Palm Scraper, you can purchase the Palm Scraper separately.
Here is a testimony that came recently came in:
"I teach primitive firemaking to Boy Scouts, showing them all sorts of technologies that don't require a match, some dating back hundreds of years. In the firesteel section, I show them a few cheap versions, and the circle comes in closer. Then I pull out my GobSpark Armageddon and throw a few sparks and they instantly jump back as sparks dance down the picnic table and fall off the other side. Really, REALLY impressive!" -Mike B
And another:
Posted by SteveG on Mar 21st 2015
"As close to perfection as I've seen in a ferro rod system"
"Nothing compares to these. The real test, with gloves on, half frozen hands, shivering, and in the dark...the Gob Spark is still easy to use and always gets the job done. Typically one strike = fire (if you have done your job and prepared your tinder, of course) Commercial tinder, improvised tinder, even slightly damp tinder, they all light with ease. The big, long lasting sparks are essential for damp, cold environments.
I've demonstrated the Gob Spark in full, brilliant sunlight and still get a "WOW!" from those that see it in action. Gob Spark is the name and giant gobs of sparks are what you get.
But a better testament to just how good this product is: I grab it first, before the Bic and before the matches. It's just that damn good.
I really can't tell how long it will last. I've struck sparks with it several hundred times and it barely shows wear. Sure there are bright streaks and a little flattening of the rounded profile, but that amounts to negligible wear so far. It will last many years for me and probably a lifetime for most.
It is big and the handle makes it bulky, but when your hands are stiff from cold and you are shivering and unsteady, the large handles on the Gob Spark and it's striker make fire starting a simple task instead of a chore.
This is the best of the best."
Thank you, Steve. You've expressed exactly why I invented the GobSpark! - Ron.
GobSpark Armageddon™ Specifications
GobSpark Armageddon with handle:

4-1/2 inches long (114mm)
weight: 1.7 ounces (48 grams)

GobSpark Armageddon with clicked on Palm Scraper:

5 inches long (127mm)
weight: 2.3 ounces (62 grams)
Related FireSteel Products
Get your FireSteel from THE name in FireSteel: FireSteel.com!
* GobSpark, GobSpark Armageddon, Palm Scraper, Armageddon FireSteel and FireSteel Armageddon are trademarks of FireSteel.com.
View All
Close
525 Reviews
Gobspark Armageddon and 2 PC. Palm scraper set

This is my third set of the Gobspark Armageddon with the palm scraper and magnesium rod .I bought these for cold weather outings because they are easy to use with gloves on. They work great and have never let me down. They throw off a nice stream of sparks and the magnesium rods are high grade and perform well in all the conditions I have used them in. They also fit nicely in my sheath pouch of my knife. So far no cons to this set. You won't be disappointed with this set.

Throw's Absolutely Epic Spark's! I gave one to my brother and before I could warn him that it throws Spark's like crazy, he gave it One strike, ONE STRIKE! and Now he's in big trouble with his wife because a large area of the carpet is now very singed!

Gobspark Armageddon & Palm Scraper

Excellent product. Performs as described. Fits the hands well and easy to use.

I bought two of these and they are incredible, on the very first strike it sent such a huge shower of Spark's that my brother is now in trouble with his wife because he singed the carpet! LoL

GobSpark Armageddon and Palm Scraper 2 piece KIT in orange is easy to find among the gear and easier to use. Finally an appropriate sized flint for effective use, especially for wet cold hands. Get yours and realize what you've been missing.

I tested this side by side with three other products and have to say holy moly, this tool throws some serious fire!

Probably ready for Armageddon

I mean... I don't really think Armageddon is coming... but someday our Sun will die and in its death throes, it will expand and the Earth will be scorched and all life will crisp out of existence. There will be no need for a fire starter then... but until then, I'm pretty sure the Gobspark Armageddon and Palm Scraper will spark up a fire whenever I want. It took me a few days to make the decision to purchase a tool that does a job that I figured my mini bic did just fine. But what if the fuel runs out? What if the tinder is wet? What if I run out of petroleum jelly balls? Then I figured I could just get a cheap rod that did the trick. After pricing and consideration for quality, I made the informed decision that this is one of those things that's worth doing right the first time. I picked up one of the magnesium blocks to round out my fire starting armada. Watch a Youtube video or two and you'll probably feel the same.

This makes the 4th Gobspark that I have purchased. I like them, but after a while they break off from the handle. They aren't much use after that.

FireSteel.com Response: Hi, Vernon. I'm sorry to hear that this has happened to you. In the future, please contact us right away and we will address your concerns immediately. We'll contact you privately to solve your specific issue and make sure you have the product and information you need. This is not a problem we commonly encounter, and, here at FireSteel, we take pride in our products, our loyal customers, and providing information on how to best use our products for continued success.

This is the best fire steel I have ever used. Throws huge sparks and makes getting fire started much easier.
View All
Close