Description
Spark up a fire using your buttons - how's that for convenient?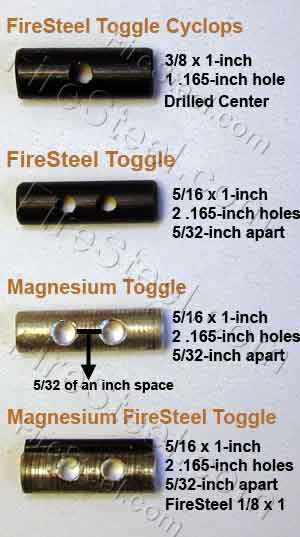 FireSteel.com Toggles
All of our Toggles are made with the same dimensions as shown in the photo above.
Made from the exact same FireSteel as our FireSteel Rods and other products, FireSteel Toggles not only cinch up your gear, they produce fire - whenever and wherever you need it.
Have your buttons serve double duty by using FireSteel.com Toggles. Fasten FireSteel Toggles to your gear ideas and never worry about being able to make a fire again!
Specifications
Size: 5/16ths ths inch diameter by 1 inch long (9.5 x 25.4mm)
Weight: .299 of an ounce (8.49 grams)
2 neatly drilled 1/6-inch diameter holes (.165 inch) spaced 5/32 of an inch apart edge to edge (see picture)
Rounded outer edges for a finished look
Robust 5500 F (3000 C) sparks that will start a fire in the toughest conditions
Composition: FireSteel.com ferrocerium rod
Features
Genuine FireSteel.com FireSteel.
Huge robust sparks that you expect from a FireSteel.com FireSteel
Easy to use and very safe (Common sense required when using any firemaking gear).
Premium FireSteel.com firesteel formula that takes your firesteel firemaking to a whole new level
5500 F (3000 C) sparks that will start a fire in the toughest conditions
Find out why gear dealers the world over choose to sell FireSteel.com FireSteel.
Related Products: Magnesium and Red Palm Scraper Kit
Note 10/2020: Magnesium, Magnesium-FireSteel, and Cyclops Toggles are sold out.
Get your FireSteel from THE name in FireSteels: FireSteel.com!
View All
Close
73 Reviews
Incorporates really well into a survival bracelet.

The steel works well and fits well in my paracord cord bracelets.

It's exactly what I expected

Fits on my paracord bracelet perfectly, and I can generate good sparks with the P-38 I have, so 5+ stars.

Good seller, fast delivery, will reorder again. Thanks FireSteel. Good product!!

Milled great, Works like a charm!

Love these things, I use them to create jewlery and they are milled to spec and work everytime! thank you!

Put these on lanyards, shoe laces, etc. always be prepared :)

Wasn't sure what to expect when I ordered the FireSteel and Magnesium FireSteel Toggles and when they arrived I soon found out that they are awesome. To top it off it was fast shipping. Great for paracord bracelets.

Great product and fast shipping!

This is the only website that I will use to order the fire steel toggles. I got a great product and I got it fast!

Fast shipping and great to have a ready made, 2 hole toggle to integrate into paracord survival bracelets.
View All
Close