Description
Spark up a fire using your buttons - how's that for convenient?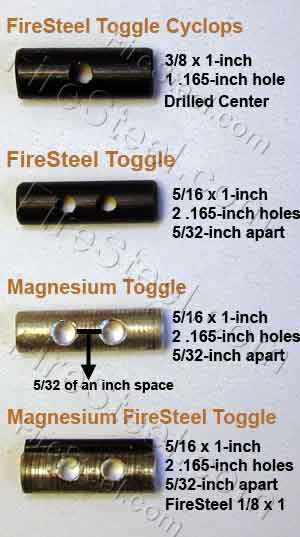 FireSteel.com Toggles
All of our Toggles are made with the same dimensions as shown in the photo abo
Made from the exact same FireSteel as our FireSteel Rods and other products, FireSteel Toggles not only cinch up your gear, they produce fire - whenever and wherever you need it.
Have your buttons serve double duty by using FireSteel.com Toggles. Fasten FireSteel Toggles to your gear ideas and never worry about being able to make a fire again!
Specifications
Size: 5/16ths ths inch diameter by 1 inch long (9.5 x 25.4mm)
Weight: .25 of an ounce (7.5 grams)
2 neatly drilled 1/6-inch diameter holes (.165 inch) spaced 5/32 of an inch apart edge to edge (see picture)
Rounded outer edges for a finished look
Robust 5500 F (3000 C) sparks that will start a fire in the toughest conditions
Composition: FireSteel.com ferrocerium rod
Features
Genuine FireSteel.com FireSteel.
Huge robust sparks that you expect from a FireSteel.com FireSteel
Easy to use and very safe (Common sense required when using any firemaking gear).
Premium FireSteel.com firesteel formula that takes your firesteel firemaking to a whole new level
5500 F (3000 C) sparks that will start a fire in the toughest conditions
Find out why gear dealers the world over choose to sell FireSteel.com FireSteel. Get your FireSteel from THE name in FireSteels: FireSteel.com!
View All
Close
69 Reviews
As always excellent products, with great eye to detail.

Difficult to use both sewn into place or free handed do to being cumbersome and short they do get the jub done with effort. I believe they would be much more effectice if they were 1/4 of an inch longer and tapered.


Great back up fire steel. Very good to add to gear as redundancy or emergency. I have added these to knife lanyards and packs. FireSteel.com is excellent to do business with. 5 Stars!!!

Perfect for using as a boot lace toggle

I laced mine onto my one boot as a toggle. I pull it tight and then tie off, works better to me then just laces on their own. Will have to order another in the magnesium to balance out the boots!

I've bought several of these and they work great. I edc one of these on a homemade firecord bracelet as a backup to my zippo. However, it does take considerable effort to thread 550 cord through it. I found the only way was to melt the ends of the paracord, cut them at an angle, and kind of twist the cordage through. Slightly larger holes would be an improvement. Also magnesium toggles would be great

Can't use with 550 Paracord

I picked some of these to try out with various paracord projects. Unfortunately the holes are just a little too narrow to use with 550 paracord; the cord simply won't fit. However, they're the perfect size to work with 325 paracord. Since I replaced my bootlaces with 325, I wove one of these into my right hiking boot -- not all that accessible, but in an emergency I can certainly be confident that I'll have one on my person.

I also wove one of these into the lanyard on my belt knife. Maybe not the most practical thing, but for the weight it's worth carrying one or two on your body somewhere. They're a neat idea and might just be a lifesaver one day.

Basically this saved me the hassle of making them myself which is a real pain to do!

I grabbed a few of these to use as toggles while making paracord bracelets. Unfortunately, they are exactly as described and the paracord I had (not standard, it included a jute cord and fishing line) was too large to make it through the holes. After measuring, I can confirm that the holes are exactly .165 inches. My attempts to drill them to .19 lead to the toggles breaking in two. I'll come up with some other uses for the other ones I've purchased.
Hopefully Ron will come up with some bigger versions of these toggles in the future. But I have to give this one 5 stars because it was exactly what was described and I've already used the broken one to start a fire! :)

Works Great, a little small

A little small at first. Once you figure out the best grip for you then it works great. Not easy to thread but not that difficult either.I will buy this again.
View All
Close