Description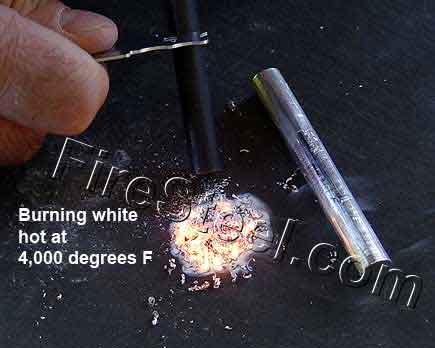 Burning Magnesium
Using a knife or firesteel scraper, simply scrape the soft magnesium tinder rod to create a pile of magnesium shavings.
Spark your firesteel onto these shavings, which will catch on fire and burn very hot.
These soft magnesium rods can be used to help start a fire, especially if your wood is damp or wet.
Note: magnesium rods only => scraper and firesteel shown in the pictures are sold separately.
This Metal Burns!
Simply scrape off a small pile of magnesium shavings using your knife or FireSteel.com Super Scraper.
When you apply a flame or spark from from your favorite FireSteel.com FireSteel, the magnesium shavings will catch on fire and burn at more than 4000 degrees F (2200 degrees C).
This extremely high temperature makes magnesium an excellent tinder for helping you start fires, even with damp kindling.
Your soft magnesium rod is naturally waterproof - will stay dry even if dunked in water.
Configure your magnesium tinder rods in the following ways:
FireSteel.com

Magnesium Tinder Rods
Diameter x Length


(inches)

Weight in Ounces and (Grams)
Add-Ons
SALE Price!
3/8 x 3
.282 (8.0)
-
$4.07
3/8 x 3
.282 (8.0)
Lanyard Hole
$4.57
3/8 x 5
.47 (13.33)
-
$4.87
3/8 x 5
.47 (13.33)
Lanyard Hole
$5.37
1/2 x 3
.592 (16.80)
-
$4.97
1/2 x 3
.592 (16.80)
Lanyard Hole
$5.47
1/2 x 5
.987 (27.99)
-
$5.97
1/2 x 5
.987 (27.99)
Lanyard Hole
$6.47
Notes about FireSteel.com Magnesium Rods:
Price shown is for one magnesium tinder rod - a picture may show two rods for the purposes of scale.
The US Penny, flat silver scraper, firesteel and other accessories in pictures are not included. Only the magnesium tinder rod is included. (Don't laugh. We've had people ask.)
The Magnesium Tinder Rods do not create sparks. Magnesium is used as a tinder to help catch your kindling (firewood, etc) on fire. You will need a source of sparks to catch the magnesium itself on fire.
FireSteel.com Super Scrapers or Palm Scrapers to help shave your magnesium are sold separately.
The FireSteel Blank Rods, FireSteel with Lanyard Holes, Square FireSteel, and GobSpark FireSteel that will make the sparks to ignite your magnesium also sold separately.
* Magnesium Tinder Rod is a trademark of FireSteel.com
Get your FireSteel from THE name in FireSteel: FireSteel.com!
View All
Close
71 Reviews
Well last year I was a Scout Master of a local troop and was looking for something to help me with my fire starting. I stumbled across this website and ordered some Magnesium Rods. Wow. I am no longer a Scout Master but have now gotten into bushcraft, so I thought (why not) and ordered a FireSteel Rod...again...Wow! I love your products and will continue to order for friends and family members. Thanks so much for a quality that can be hard to find nowadays! Keep up the good work...I will be ordering more of the products. Thanks!

This makes fire starting a breeze. It's a must for wet environments.

Quality Mag Rods. Would Buy Again. Thanks

These are a nice soft compound; it's easy to control the shaving size with a good scraper/striker. no problem getting tiny rotini curls or tiny flakes, and both go up well with a spark thrown from any decent ferro rod. I am surprised how well these things are wearing, considering how easy they are to work with. they'll likely be outliving all the ferro rods they are paired with.

My only previous experience with magnesium tinder was with a block I bought at the local chain sports store. While it worked, it was so hard, it dulled my knife pretty badly, and was difficult to get enough shavings to start a fire. I switched to using a hacksaw/metal file, and it worked reasonably well, but tedious. Some Youtube reviews indicated that there was a wide variation in quality of magnesium tinder blocks, so I decided to try this rod. Boy am I glad I did. Using the scraper that came with the firesteel I also bought, a nice pile of magnesium chips quickly formed and one strike with the firesteel and they ignited beautifully. What a difference! Highly recommended!

Unless you are trying to get wood to burn under water, magnesium will start your fire when nothing else will. These magnesium rods are the best I've seen and are very reasonably priced. They belong in every fire-starting kit!

Great quality!! Purest Magnesium I've found!!

Easy to scrape, lights very easily!! Quality is unbeatable!!

I was pleasantly surprised at how soft this magnesium rod was. super easy to scrape and lights up very easy. Plus you can't beat the price for such a quality product!

Great product, together with the super scraper you're set for camping or emergency.
View All
Close