Description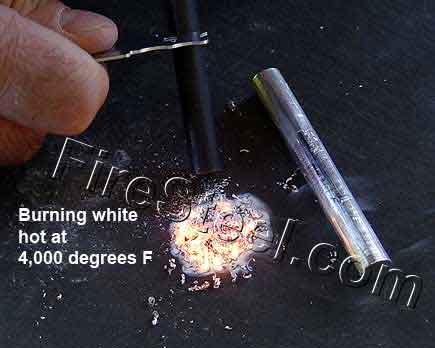 Burning Magnesium
Using a knife or firesteel scraper, simply scrape the soft magnesium tinder rod to create a pile of magnesium shavings.
Spark your firesteel onto these shavings, which will catch on fire and burn very hot.
These soft magnesium rods can be used to help start a fire, especially if your wood is damp or wet.
Note: magnesium rods only => scraper and firesteel shown in the pictures are sold separately.
This Metal Burns!
Simply scrape off a small pile of magnesium shavings using your knife or FireSteel.com Super Scraper.
When you apply a flame or spark from from your favorite FireSteel.com FireSteel, the magnesium shavings will catch on fire and burn at more than 4000 degrees F (2200 degrees C).
This extremely high temperature makes magnesium an excellent tinder for helping you start fires, even with damp kindling.
Your soft magnesium rod is naturally waterproof - will stay dry even if dunked in water.
Configure your magnesium tinder rods in the following ways:
FireSteel.com

Magnesium Tinder Rods
Diameter x Length


(inches)

Weight in Ounces and (Grams)
Add-Ons
SALE Price!
3/8 x 3
.282 (8.0)
-
$4.07
3/8 x 3
.282 (8.0)
Lanyard Hole
$4.57
3/8 x 5
.47 (13.33)
-
$4.87
3/8 x 5
.47 (13.33)
Lanyard Hole
$5.37
1/2 x 3
.592 (16.80)
-
$4.97
1/2 x 3
.592 (16.80)
Lanyard Hole
$5.47
1/2 x 5
.987 (27.99)
-
$5.97
1/2 x 5
.987 (27.99)
Lanyard Hole
$6.47
Notes about FireSteel.com Magnesium Rods:
Price shown is for one magnesium tinder rod - a picture may show two rods for the purposes of scale.
The US Penny, flat silver scraper, firesteel and other accessories in pictures are not included. Only the magnesium tinder rod is included. (Don't laugh. We've had people ask.)
The Magnesium Tinder Rods do not create sparks. Magnesium is used as a tinder to help catch your kindling (firewood, etc) on fire. You will need a source of sparks to catch the magnesium itself on fire.
FireSteel.com Super Scrapers or Palm Scrapers to help shave your magnesium are sold separately.
The FireSteel Blank Rods, FireSteel with Lanyard Holes, Square FireSteel, and GobSpark FireSteel that will make the sparks to ignite your magnesium also sold separately.
* Magnesium Tinder Rod is a trademark of FireSteel.com
Get your FireSteel from THE name in FireSteel: FireSteel.com!
View All
Close
67 Reviews
Disappointed after reading ads. The two I bought take 5-9 strikes to catch and then burn out immediately. Mostly I have to try several to many ignitions before one slowly catches and stays lit. No flame up just smoldering under the top layer. Not very soft, comes off in tiny scrapes no sizable ribbons types. I'm no novice and use ferro rods, mag shavings and powder for years. Got some real no name cheapos that are real soft, scrap off big ribbons and light first time every time. Unfortunately, can't recall where i got them. Will use these two but it's a lot more work for less than I was lead to believe. Won't buy again. FireSteel.com Response: Hi, George. We're sorry to hear that you're disappointed in the performance of our Magnesium Tinder Rods. Please contact us at your earliest convenience if you'd like us to see what we can do to help. Thanks for letting us know about your experience. All the best to you and yours, Ron Fontaine, Owner, FireSteel.com

Highly effective, So very effective that when My family saw how easy and efficiently I could make a fire,

works great makes starting a fire a little easier

Shaves easily and catches spark effectively.

These folks have the best magnesium rods around. Best in class, especially for the price.

this is the real element magnesium the bigger version of the Done one that was issued in the second world war to the U.S. Army

the real Magnesium element that rapidly combust , it scapes easily with the small scraper they manufacture , Thanks Mr. Fontaine

Shaves well and fast. And it burns phenomenally.

i got a few of these in different sizes and with holes in them. i like them much better than the conventional blocks you get from coghlans i.a. and in combination with the super-scraper, getting enough material is so easy, i couldn't have imagined before.

When the tinder sticks came in I immediately gave them a test run. It works just as advertised and shaves/ flakes very easily. It helps to start fires with damp or hard to burn materials. It's very light and the lanyard holes are very close to the edge so I can use most of the stick for tinder building. I'm putting one in both of my cars and one with my outdoor kit for sure.
View All
Close