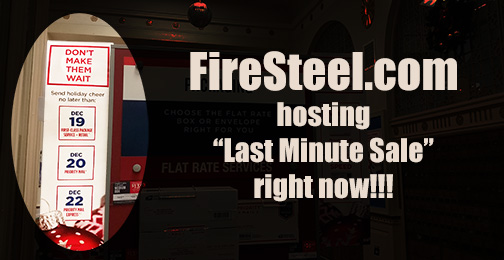 We'll get right to the point: the USPS has set the cutoff date for Christmas delivery to December 19th this year, so to help you late shoppers out, we're hosting a "Last Minute Sale"!

In order to give our pickers and packers enough time to get the orders out by the USPS deadline, use code "In Time" between now and midnight EST on Sunday the 17th to enjoy:

10% off all sizes of FireSteel.com FireSteel Blank Rods! Yes, you read that right: take 10% off all sizes of our world-class FireSteel blank rods! From the teeniest Micro to the heftiest Magnum, all blank rods are on sale!!! Check it out:
But wait! There's more! ;-)

10% off all sizes of FireSteel.com FireSteel Rods with Lanyard Holes!
10% off our SQUARE firesteel! They deliver more sparks with every scrape due to their unique shape! All of the lengths of FireSteel.com SQUARE FireSteel with and without holes are included in the 10% off sale!!!

ALSO, take 10% off our Super Scrapers and Palm Scrapers because you'll need something tough that can stand up to the intense heat produced by the act of scraping. Not all blades are up to the task. (Read the recent review by Kyle D. who found out the hard way.)

Want a rod with a pre-attached handle? Need an awesome stocking stuffer? How about 10% off our GobSpark Armageddon and GobSpark Ranger line! Check them out!

And last but not least, we're pleased to announcethat our world-famous FireSteel.com Ranger Tube and Ranger Tube Deluxe are finally back in stock! To celebrate, take 10% off of those tubes as well! Limited stock available. Order quickly before they're gone!

But what if you just don't know what to get someone? Or you're someone's "Secret Santa" and want to get a gift that's sure to please? Or what if you want to donate to your local scout, church or youth group but need to keep the per-kid cost down? How about a FireSteel.com Gift Certificate for the group as a whole? You can have them issued in any denomination from $1.00 up to $1,000. and they are good for 5 years after the date of purchase. (Gift Certificates are not refundable nor are they eligible for the 10% discount.)

FireSteel.com FireSteel products and Gift Certificates are the best "Gift of Fire" you can give!!! We can't think of a better way to warm the heart (and the hands) during this season of sharing, giving and cheer.

And let's not forget about our "new kid on the block": our new tinder, the "Fiber Light Fire Starter" which is on sale for 30% off (no coupon needed, deduction taken automatically when you place it in your cart).

So before we rush off to go package up today's orders, we want to leave you with best wishes for a healthy and happy holiday season, and may the New Year bring you unimaginable joy and prosperity.

Ilma and Ron and the rest of the FireSteel.com Team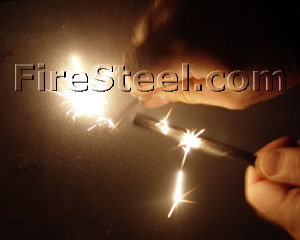 FireSteel.com is Fire. Rediscovered.TM

(Oh, and don't forget to follow us @firesteeldotcom on Instagram, Facebook, and Twitter!)

Copyright © 2017 FireSteel.com LLC, All rights reserved.