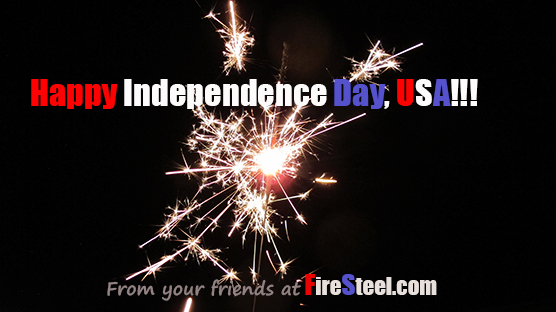 Question: "What do sparklers and FireSteel.com have in common?" Answer: "Magnesium!"
This July, 2017 edition of the FireSteel.com Newsletter is all about Magnesium with valuable coupon codes for our customers in honor of Independence Day, July 4th!
Magnesium bars have long enjoyed a well-deserved reputation as a reliable source of tinder during both emergency or recreational pursuits. Wherever a fire is needed for warmth, cooking, or simply comfort and ambiance, a magnesium bar, rod or shavings can make short-work of getting a fire started quickly and effectively, even under damp conditions.
(By the way, did you know that it is NEVER a good idea to douse a magnesium fire with water? The oxygen molecules in water will "lend" the magnesium that is burning some extra molecules which cause the fire to burn with even more fierceness than usual, so always use sand to smother a magnesium fire.)
"The British are coming Black-Handled Gobsparks are coming!!!"
As many of you know, our black-handled Gobsparks have been out of stock for some time. The "Safety Orange" color proved to be so popular that we discontinued the black-handled models.
Then we started hearing from our customers who wanted the black-handles back, so we are pleased to announce that we've finally made the decision to bring back the black handles!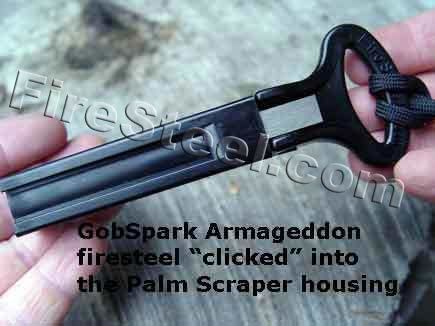 (Look for them in the coming months.)
In order to make room for the new Gobsparks, however, we want to liquidate what remains of the RED Palm Scrapers still in our inventory, so we started brainstorming...
What kind of product can we offer our customers that will include a RED Palm Scraper and would be suitable for featuring in this month's newsletter?
And then it hit us: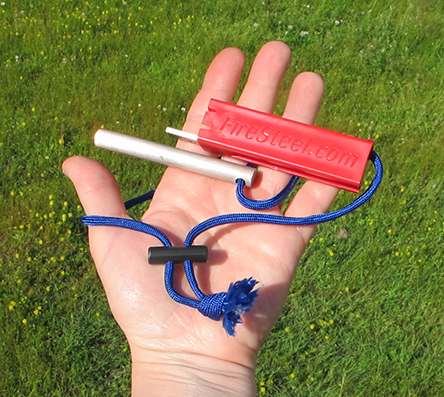 A Red Palm Scraper to represent the color RED, a 3/8" x 3" Magnesium Rod to represent the color WHITE and for the color BLUE, a 2' length of 550 Paracord!!!
Add a FireSteel.com FireSteel Toggle (sold separately) and you've got yourself a very handy kit. Throw one in your car's glove compartment, put one in your EDC kit, stash one wherever you need one. Quality goods, compact, lightweight and a bargain to boot. What more can one ask for?
To clear the Red Palm Scrapers out (only available as part of this kit), we are pricing the Palm Scraper, Magnesium and Lanyard set at $5.99!


Add the FireSteel.com FireSteel Toggle for an additional $2.95 and you've got an awesome kit that won't let you down. (Limited supply, get them while they last!)
Recent FireSteel.com Customer: "I've never tried using Magnesium as tinder, can you show me how it works?"
If you have never used our magnesium rods as tinder or seen for yourself how a Palm Scraper makes short work of scraping the magnesium and making a nice pile of shavings, check out this video we recently uploaded to our Facebook page @firesteeldotcom in response to a customer asking us to demonstrate how well our magnesium performs.
You will see how we took the precaution of wearing gloves when lighting the pile of shavings produced by scraping the magnesium rod because we've learned from experience that shavings can pop violently when they ignite, as you can see in the video. Always use caution when starting a fire, no matter what you use as tinder.
So what about the Sparklers?
Did you know that magnesium (along with aluminum) is a common ingredient in sparklers?
As you know, magnesium shavings burn white-hot at extremely high temperatures, well above 4000 degrees F (2200 degrees C), and are a popular item in many a survival or fire-starting kit.
A sparkler is typically associated with festivities, especially the holiday being celebrated in the US this very day: Independence Day, July 4th.
When we stopped and thought about how the very same magnesium that we sell in our firestarting kits or by itself is commonly used as an ingredient in sparklers, we took notice. You can easily see how the innocent-looking sparkler can, actually, cause severe burns if not handled with care.
The following image courtesy of the US Consumer Product Safety Commission really is worth a thousand words: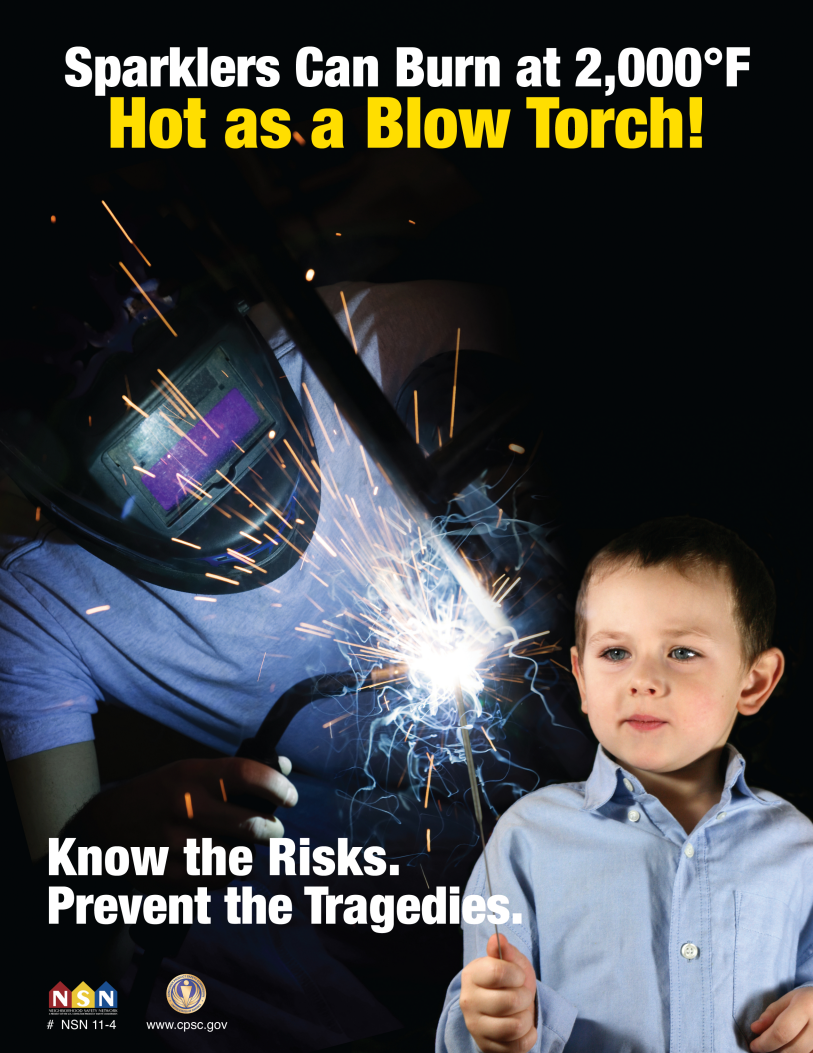 So on this July 4th, treat your sparklers as you would any other fire-starting device and enjoy them safely.
Happy Independence Day, USA! Coupon Codes that sparkle!!!
From today, July 4th through July 17th, (thirteen days in honor of the original 13 colonies), enjoy the following savings:
Current FireSteel.com Coupon Codes - Use at Checkout:
orders $50 to $249.99 use this code for 5% off: 50

orders $250+ use this code for 6.25% off: 250

orders $500+ use this code for 7.5% off: 500

orders $1000+ use this code for 10% off: 1000

orders $2500+ use this code for 12.5% off: 2500
Plus, orders over $100 automatically qualify for free shipping!
Just add the appropriate code to your shopping cart at FireSteel.com and tonight remember to keep a close eye on those sparklers!
May you and yours have a safe and enjoyable 4th of July from your friends at FireSteel.com in the White Mountains of New Hampshire.
That's it for now. Enjoy the day and remember: FireSteel.com is Fire Re-Discovered!

Ron and the FireSteel.com Team
FireSteel.com