Lighting
Many is the time I've been outdoors as darkness has fallen when a quick and easy light comes in handy. Perhaps I have just arrived at the campsite and the first thing I want to do is start a campfire.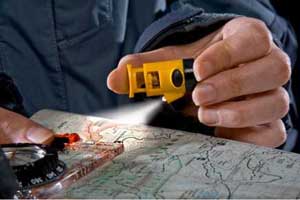 A quick handy light to read a map
You'll never know when a cordlock light will come in handy - until you need to use it!
These cord lock lights are perfect for just such a task. Hooked to the drawstring on my coat or backpack, I have a bright and lively LED light at my fingertips. I can easily see my fire wood, kindling, and fire steel with plenty to of light to spare for rummaging through my pack for a FireSteel to light my fire.
The beauty of cordlock lights is that they serve the double purpose of clinching together and securing the cords on your gear. Put a cordlock light on your sleeping bag, another on your backpack, and a third on your Firesteel lanyard. You'll never know when you will use it, but when you do you'll be glad it's close to hand and easy to locate.