FireSteel with Lanyard Holes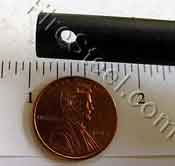 Our FireSteel lanyard holes are neatly drilled, allowing you to attach a lanyard and other gear.
Attempting to drill a hole into your firesteel can be problematic -
FireSteel.com firesteels are made from an extreme sparking formula. As soon as a drill bit starts to bore into the firesteel rod, a huge shower of white hot sparks will be created.
Be forwarned - I do not recommend trying to drill a hole into a FireSteel at home!!
Because it is difficult and dangerous to drill a neat centered hole into a firesteel rod, my advice is to let FireSteel.com put a hole into your firesteel for you.
Our technique produces neatly made, centered firesteel lanyard holes that are roomy enough for a lanyard to be strung through while keeping the integrity of the firesteel intact.
Below are our FireSteel rods with neatly drilled lanyard holes listed in order of diameter (Thickness) with available lengths listed:
Survival FireSteel™ series are 5/16 of an inch in diameter
Armageddon FireSteel™ series are 3/8 of an inch in diameter
SHTF FireSteel™ series are 7/16 of an inch in diameter
Bunker FireSteel™ series are 1/2 of an inch in diameter
We also offer the GobSpark Armageddon and GobSpark Ranger, which have handles instead of holes drilled directly into the rod.
All of our FireSteels are made using the same high sparking formula FireSteel.com FireSteels are known for.